Center for Causal Discovery
Distinguished Lecture in Causal Discovery
University of Pittsburgh, Carnegie Mellon University,
Pittsburgh Supercomputing Center and Yale University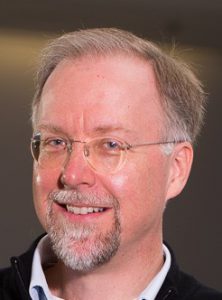 David Jensen, DSc, Professor, College of Information and Computer Sciences, University of Massachusetts Amherst, "The Case for Empirical Evaluation of Methods for Causal Modeling" at 11:00 am on Thursday, February 15, 2018, in Rooms 407A/B BAUM, 5607 Baum Blvd., The Offices at Baum.
Abstract: A variety of methods have been developed for constructing causal models.  These include methods for estimating the structure and parameters of causal graphical models, as well as a large number of methods for estimating individual causal dependencies (e.g., propensity score methods).  The primary evidence for the effectiveness of these methods is based on either theoretical proofs or performance on synthetic data.  In this talk, I review the state of this evidence, and argue that empirical evaluation is a virtual necessity for the field to progress.  I show how the progress of non-causal modeling methods was transformed in the 1980s and 1990s by a focus on empirical evaluation.  I describe a set of techniques for empirical evaluation of methods for causal modeling, including some novel data sets and evaluation techniques developed in my research group.  Finally, I briefly survey several practical issues that are likely to arise if empirical evaluation becomes the norm, and how considering these issues could significantly advance the field of causal modeling.
Biography:  Dr. Jensen is a Professor of Computer Science at the University of Massachusetts Amherst.  His research focuses on methods to learn accurate causal models of large social, technological, and computational systems.  He regularly serves on program committees for several conferences, including the ACM SIGKDD Conference on Knowledge Discovery and Data Mining, the IEEE International Conference on Data Mining, the International Conference on Machine Learning, and the Conference on Uncertainty in Artificial Intelligence.  He has served on the Board of Directors of the ACM Special Interest Group on Knowledge Discovery and Data Mining (2005-2013), the Defense Science Study Group (2006-2007), and DARPA's Information Science and Technology Group (2007-2012).  In 2011, he received the Outstanding Teacher Award from the UMass College of Natural Sciences.  In 2017, one of his papers received the IEEE INFOCOM Test of Time Paper Award.
*******************************************************
If you need to join the CCD Colloquium remotely, please follow the instructions below.
To join the meeting on a computer or mobile phone: https://bluejeans.com/884583649?src=calendarLink
DBMI has invited you to a video meeting.
———————————–
Just want to dial in on your phone?
1) +1.408.740.7256 (United States)
+1.408.317.9253 (Alternate number)
Global Numbers: http://bluejeans.com/numbers
2) Enter Meeting ID: 884 583 649
3) Press #
———————————–
Want to test your video connection?
https://bluejeans.com/111
………………………………..