Center for Causal Discovery
Distinguished Lecture in Causal Discovery
University of Pittsburgh, Carnegie Mellon University,
Pittsburgh Supercomputing Center and Yale University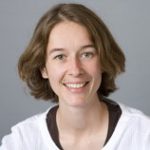 Marloes Maathuis, PhD, Professor, Department of Statistics, ETH Zurich, Switzerland, "High-Dimensional Consistency in Score-Based and Hybrid Structure Learning ," at 9:00 am on Friday, November 11, 2016, in Rooms 407A/B BAUM, 5607 Baum Blvd., The Offices at Baum.
Abstract: The main approaches for learning Bayesian networks can be classified as constraint-based, score-based or hybrid methods. Although high-dimensional consistency results are available for the constraint-based PC algorithm, such results have been lacking for score-based and hybrid methods, and most hybrid methods are not even proved to be consistent in the classical setting where the number of variables remains fixed. We study the score-based Greedy Equivalence Search (GES) algorithm, as well as hybrid algorithms that are based on GES. We show that such hybrid algorithms can be made consistent in the classical setting by using an adaptive restriction on the search space. This leads to the adaptively restricted GES (ARGES) algorithm. Moreover, we prove consistency of GES and ARGES for certain sparse high-dimensional scenarios.   This is joint work with Preetam Nandy and Alain Hauser
Biography:  Dr. Maathuis' research areas include causal inference, graphical models, high-dimensional statistics, asymptotics, and application of statistics.  She is currently associate editor for the Annals of Statistics, Biometrika, and the Scandinavian Journal of Statistics.
*******************************************************
If you need to join the CCD Colloquium remotely, please follow the instructions below.  If you do not have Microsoft Lync installed on your computer, you can join the meeting using the Lync Web Plugin.  You may click on the below link "Join Skype Meeting" to get started and can review the attached documentation on how to install the Lync Web Plugin if needed.  Thank you.
………………………………………………………………………………………………………………………..
Join Skype Meeting
Conference ID: 8764183180
Help  This is an online meeting for Skype for Business, the professional meetings and communications app formerly known as Lync.
Join by Phone:
Toll-free number: 1-866-715-6499
Toll number: 1-719-325-2776
Find a local number